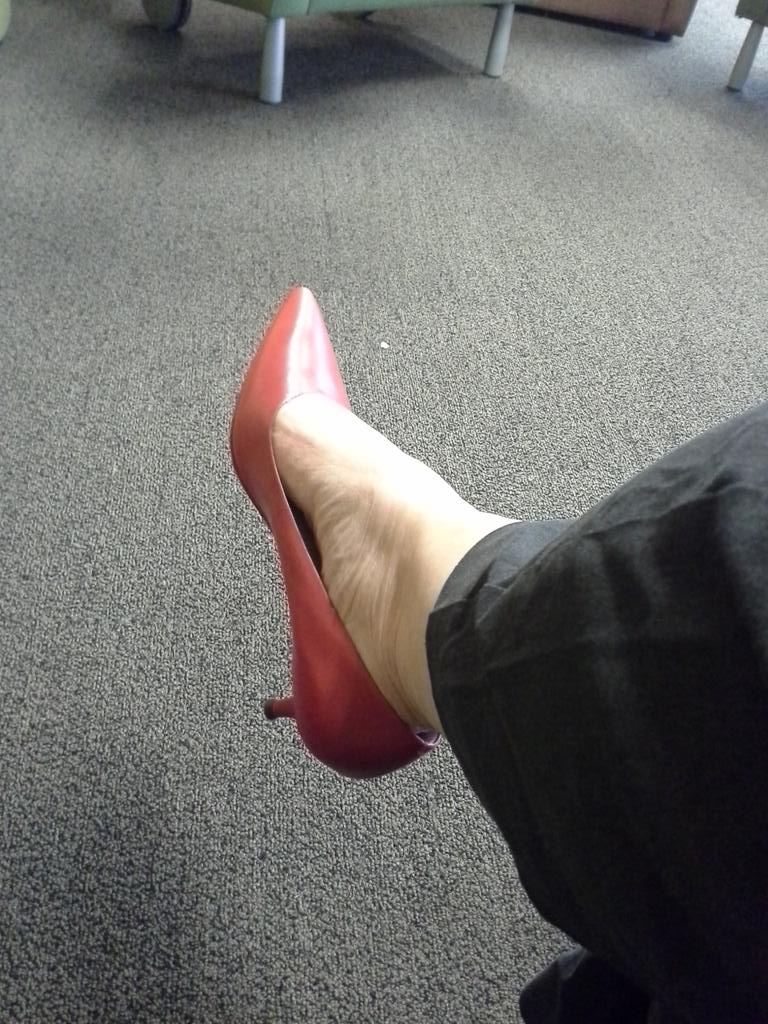 This is not going to become a fashion blog. It is already a hodgepodge of nothingness, and I pity anyone that takes my fashion advise. I've had a feeling down, feeling sick, feeling blah kind of week. Nearly two years ago I got on a kick where I was going to spruce up my wardrobe, but as I always say, after I lost some weight. What I didn't do was wait for shoes and ordered three pairs, a black heel, a brown strappy heel, and these red pumps. I have no clue what happened to the black heels. I remember packing them in a bag or box when I vacated my last office, but they have yet to materialize. I had only worn them a couple times and hope they turn up. The brown strappy things ended up being higher than I am comfortable wearing on a daily basis, so have been worn exactly once. These red shoes not at all until yesterday.
Despite it being summer, it was a little cooler on Wednesday so I dressed in gray pants and a black short sleeve pullover. Dull and duller is what my look said. I don't know why, but I remembered the red shoes and crawled in the back of my closet and fished them out. I instantly felt uplifted, taller, thinner, and more pulled together. So this is what being fashionable can feel like? I

received a compliment

about my splash of red looking so nice on a dreary day. Another colleague said they made my outfit look polished. Gee, thanks.
I rarely feel girly girl, but the shoes made an impact on my mood. I did feel polished and pulled together, and suddenly my dull and duller bottom and top looked clean-lined and sophisticated. Well, maybe a stretch, but it is how I felt. Of course when I walked through the door, it felt good to get them off. For new shoes, they weren't too bad in the comfort department, but still new shoes. Pup appreciated them too as instantly he stole one and took it back to his bed before I had gotten around to putting them in the shoe cubby. He can keep tabs on them for a bit, maybe until the next dull day needs a little perkiness.
This Red Shoe Post marks my 500th post of my blog. Yeah me for sticking with it. Thank you for actually reading it. There has been changes to how blogger works and how I can

see

visitors

and followers, and I keep regularly gaining and losing Twitter followers, so I am not sure of my reach, but it is at least a handful that have read, commented, and motivating me to keep this going. After all, I have another pan of brownies to earn.